Good ole southern cookin'!Great prices!
5369 S Highway 127 | Liberty KY. 42539
Call for reservations: 606.787.6110
About Us
Bread of Life Café is a 150 seat, destination restaurant. It is said that we have some of the best Southern cooking around – available both on our extensive menu and loaded buffet. The Bread of Life Cafe' is a project of Galilean Home Ministries
The Story
The story of the Bread of Life Café didn't start with our famous, homemade rolls or our affordable prices. It actually began with one couple's love for children.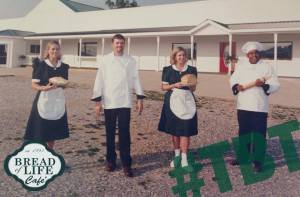 Early in the marriage, Jerry & Sandy Tucker desperately wanted to start their family. Doctors said they had a one-in-a-million chance of having a baby. That prognosis launched a journey of adoption, two miracle, biological daughters, and a ministry giving children of all ages a place to call home over the next 40 years . . . and counting.
So, where does the Bread of Life Café fit in? 1992 saw Sandy (Mom) thinking of new ways to financially support the ministry of the Galilean Children's Home, so she started a small, Christian bookstore in downtown Liberty. Two years later, the bookstore struggling, Mom added four tables to serve soup and sandwiches for lunchtime.
We officially opened the doors as Bread of Life Café in 1995. Before long our signature rolls (Mom's recipe), a loaded, southern cookin' buffet and an extensive menu brought in enough people daily that our small, downtown location began to bust at the seams. So, we added the Bread of Life Diner just a few blocks away, and even had a café in Hustonville for a short time.
Over the next several years, we wanted to make multiple restaurants one, and in 2001 we cut the ribbon, five miles south of Liberty on Highway 127. Our dedication to affordable prices, good ol' southern cookin' & great service is the foundation of what keeps folks, such as yourself, coming back for more.
Though Mom passed away in June of 2007 after a long battle with cancer – her vision for this restaurant, and the ministry, lives. Every cent after operating costs goes to support Galilean Home Ministries. The Café also serves as a place for some of the more capable residents to work while also adding jobs in our community.
In 2008, on the anniversary of her passing, one of Mom's big dreams for the Bread of Life Café came true. We were able to add the spacious, diverse gift & sweet shop she always wanted with everything from locally-made candles to our famous, homemade fudge as well as our unique, tasty rolls & more. There is a section dedicated to information about Galilean Home Ministries with the latest newsletters, two books written by Mom, and even some documentaries and TV shows produced about the ministry. So, don't forget to mosey on through while you're there.